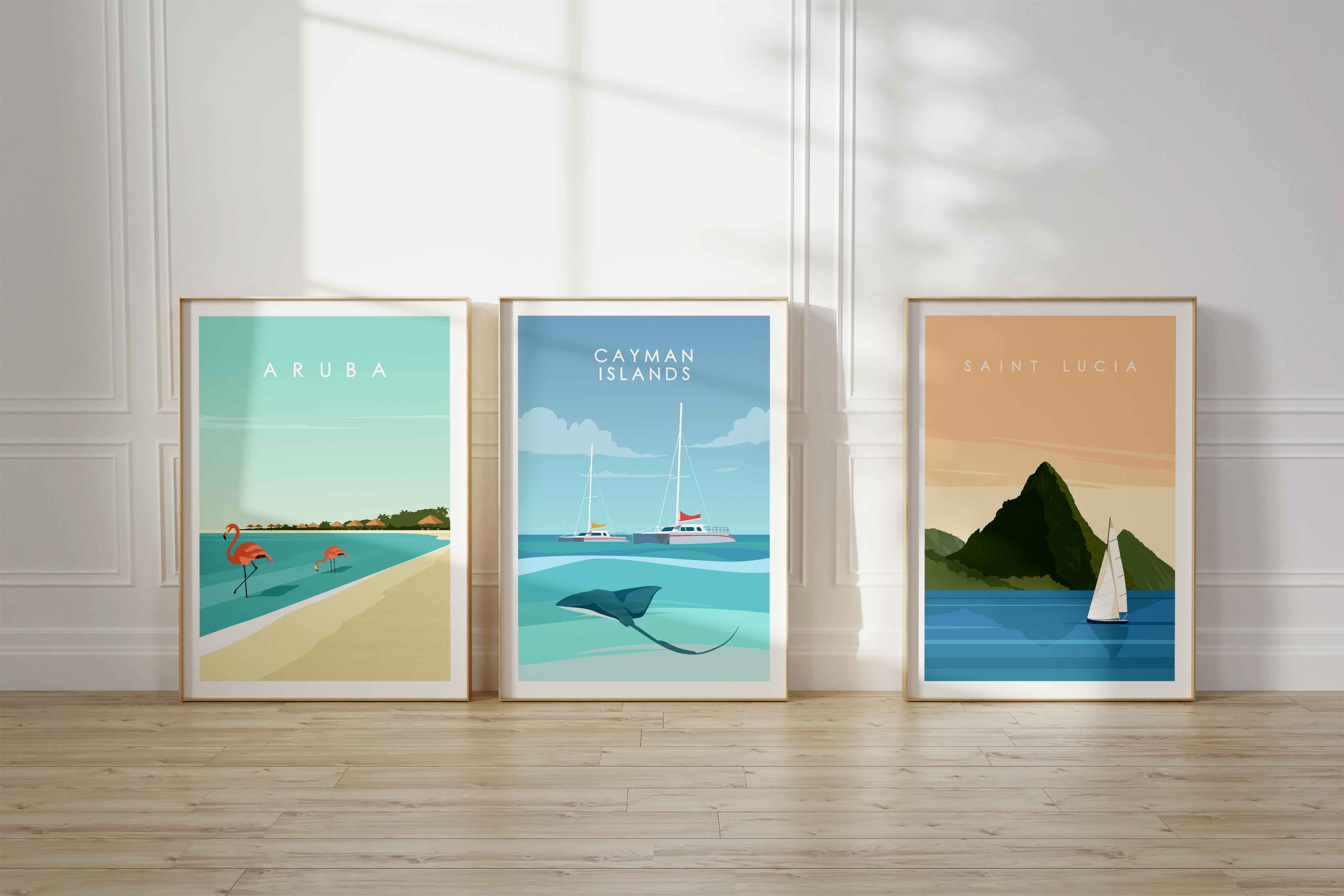 ✨ BUY 2 GET 1 FREE ✨
Buy any 2 framed or unframed prints and get 1 FREE

SPECIAL OFFER
Travel Posters | Europe
Discover a world of travel posters showcasing some of the best places to visit in Europe. Blessed with an abundance of spectacular European travel destinations to experience and explore, our stylish collection of travel posters celebrates Europe in all her iconic beauty.
Best cities to visit in Europe
Your options are virtually endless when it comes to the best cities to visit in Europe. London tops the list of the most visited cities in Europe, while Paris takes second place and Berlin third.

Choose romantic cities in Europe like Venice or Prague. Travel back in time in Istanbul, get swept away by the artistic magic of Renaissance Florence, admire the spectacular architecture of Rome, or take in the rolling hills of Tuscany. Road trip along the gorgeous Italian coastline of the Cinque Terre or the French Riviera's famous Côte d'Azur.

Take in some of the best skiing in Switzerland's Swiss Alps, admiring Matterhorn Peak at Zermatt. Add Spanish flair to your vacation in Europe and visit mainland Spain's Madrid, San Sebastian and Barcelona, or venture across to the idyllic Balearic Islands for sun, sand and sea on Ibiza or Mallorca.
Take in the picture postcard perfect canals of Amsterdam and Bruges, or Portugal's lively and colourful coastal cities of Lisbon and Porto. Jet set across the Mediterranean Sea to the Greek Islands of Mykonos, Santorini and Corfu, or sail along the Dalmatian Coast taking in Croatia's Dubrovnik, Split and Hvar.
Wall Art Ideas
From cities and towns to landmark locations of places to visit in Europe, we offer you wall art inspiration and wall decor ideas for your living room, bedroom, bathroom and kitchen, at home or in your home-office. 
Vintage Travel Posters & Travel Prints

Choose from on-trend design styles including vintage travel posters and retro travel posters, as well as modern and minimalist travel prints.

Framed Wall Art

All our artworks are available as beautifully framed wall art, finished in a black, white or natural wood frame, or as print-only to simply fit into your own frame.

Travel Wanderlust

Bring home happy travel wanderlust memories with our ever-growing collection of Travel Posters and Travel Prints from all across Europe.